I think there's so much confusion with waterproof phones. I've written this hoping it will help any of you who are buying a phone, or any device really, for it's waterproof or water resistant features.
Ingress Protection Rating
If you're buying a phone for its waterproof or water resistant features you need to check the ingress protection rating, also shortened to IP rating. IP ratings are a standard used internationally to classify the degrees of protection offered by enclosures of electrical equipment.
How it works
An example of an IP rating is: IP67
A rating consists of the letters "IP" followed by two numbers.
- The first number, 6, represents the protection provided against solid objects. This may be dust or fingers.
- The second number, 7, represents the protection provided against moisture.
Now let's see what the 6 and 7 means on the chart...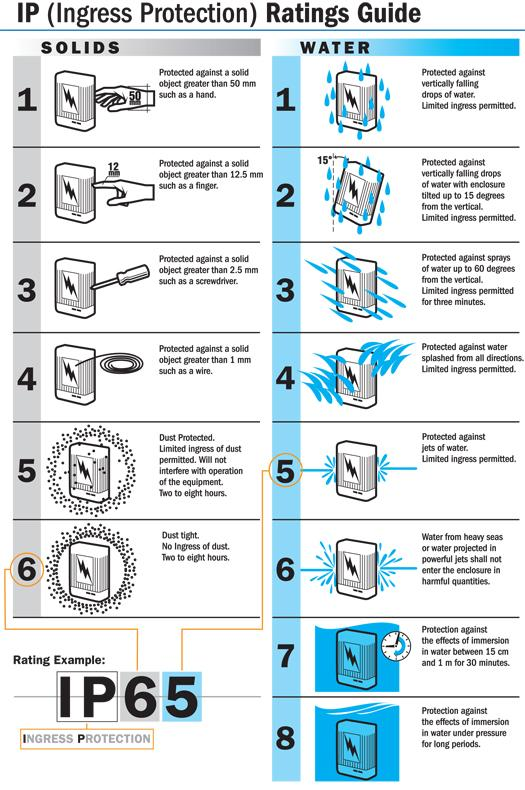 In greater detail
Of course this chart is a general guide, and doesn't specify too much detail. Wikipedia has more information on how long and how deep the object can be exposed to dust or submerged.
https://en.wikipedia.org/wiki/IP_Code
According to Wikipedia an IP67 device should be..
Dust tight.
No ingress of dust; complete protection against contact (dust tight). A vacuum must be applied. Test duration of up to 8 hours based on air flow.
Immersion, up to 1 m depth.
Ingress of water in harmful quantity shall not be possible when the enclosure is immersed in water under defined conditions of pressure and time (up to 1 m of submersion). Test duration: 30 minutes.
Tested with the lowest point of the enclosure 1000 mm below the surface of the water, or the highest point 150 mm below the surface, whichever is deeper.
Note
Even with its rating, it's important to follow the manufacturer's instructions. They may have additional information disclosed about the temperature of the submersion or any other information specific to that device.